Work Injuries
Work injuries can do a lot more than simply decrease your productivity on the job. An injury sustained while working can also lead to mental and financial stress, and in more involved cases, could even put a person's career in jeopardy. Our Elkhart, IN, chiropractor, Dr. Aaron Barnes at Barnes Chiropractic, has the natural tools and techniques you need to stay healthy at work, avoid injuries, and heal quickly from any injuries that do develop.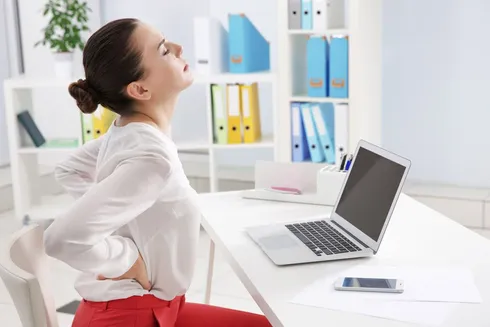 Common Work Injuries
Chiropractors frequently diagnose and treat work injuries like:
Generalized back pain or neck pain
Nerve compression syndromes in the spine (cervical radiculopathy, sciatica) or extremities (piriformis syndrome or peroneal nerve entrapment in the leg, carpal tunnel syndrome/median nerve compression in the wrist)
Herniated disc or bulging disc
Plantar fasciitis
Muscle strains
Ligament sprains
Whiplash
Risk Factors for Work Injury
People with physically demanding jobs—including jobs like construction, janitorial work, farming, and nursing—often experience work-related injuries on the job. But even jobs that involve more sedentary activities, including truck driving and office work, can lead to acute or chronic pain and dysfunction due to work-related tasks.
Our patients who come to us with work injuries will often report a range of risk factors, including:
Stress (in and outside the office)
Poor sleep and diet
Frequent heavy lifting, bending, or twisting
Operating heavy machinery
Falls from heights
Slips
Motor vehicle accidents
Repetitive movement
Sitting or standing too much
Improper or broken/damaged work gear and equipment
As a holistic health practitioner, Dr. Barnes aims to help patients not only heal from their work injuries but understand the unique factors contributing to their acute or chronic pain so that recurring issues can be avoided.
Healing from Work Injury with Our Chiropractor in Elkhart, IN
When you see our chiropractor in Elkhart, IN, for pain management related to a work injury, you can first expect a thorough history and examination. This allows Dr. Barnes to accurately diagnose your condition and identify any underlying issues that could worsen your discomfort.
Based on the examination, Dr. Barnes can create a personalized treatment plan that will help you start feeling better while simultaneously enhancing your body's self-healing process for noticeable, long-lasting results. Our services include spinal adjustments, corrective exercises, non-invasive spinal decompression therapy (great for nerves compressed by damaged discs), and innovative modalities like class IV laser therapy to stimulate healing starting at the cellular level.
His advanced training even allows Dr. Barnes to help people learn how to avoid future injury by improving body mechanics and workplace ergonomics.
Schedule an Appointment with Dr. Aaron Barnes for Work Injury Treatment in Elkhart
Call Barnes Chiropractic today at (574) 295-9355 for more information on work injuries or to schedule an appointment with our chiropractor.