New technologies offer many new options for the treatment of chronic conditions. Lasers have become commonplace in surgical procedures, and they can also be used at a lower frequency to relieve pain and improve healing. At Barnes Chiropractic in Elkhart IN, we offer class IV laser therapy to help our patients recover from pain and immobility.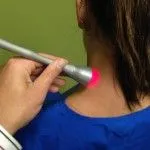 Understanding Laser Therapy
At low frequencies, laser light has been found to stimulate healing, in a process called photobiomodulation. The focused light stimulates chemical activity deep in the layers of tissue. You will feel no heat or vibration, but the light causes the production of hormones and oxygen delivery to the tissues. Healing processes are enhanced. As a result, the patient experiences faster healing and greater relief from discomfort.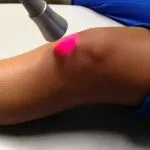 Conditions Laser Therapy Can Help
Class IV laser, a low-level laser therapy, can reduce pain, decrease inflammation and improve healing in a variety of health issues. It is used to treat muscle injuries from athletic activities and pain from osteoarthritis. It can be utilized to improve nervous system function. It is sometimes used to help muscle spasms, back, and neck pain. Laser treatment can be used to reduce post-surgical pain. Laser therapy can also help chronic pain conditions, such as fibromyalgia and carpal tunnel syndrome. Research continues to be done on the use of lasers to treat a wide range of health problems.
How Class IV Laser Therapy Is Performed
During a laser therapy session, patients are asked to lie down. The area that is being treated is uncovered. The therapist uses a hand-held device that is placed over the surface of the skin. The device is then swept over the treatment area for several minutes. Therapy is painless and non-invasive. You will be able to continue your normal activities after the session. Generally, several sessions are required to revive the full range of benefits associated with this technique.
Choose Barnes Chiropractic as Your Chiropractor in Elkhart
Dr. Aaron Barnes has extensive training in chiropractic methods to help his patients in Elkhart, IN and surrounding communities experience relief from pain and improved body function. We treat many conditions including back pain, neck pain, sports injuries, fibromyalgia, and other musculoskeletal problems. When you first visit our office, our chiropractor will assess your condition to determine how class IV laser therapy will benefit you. Call Barnes Chiropractic today at for more information or to schedule an appointment.