Spinal Decompression Therapy
Lasting back pain and other similar symptoms can be disruptive to your life. At Barnes Chiropractic in Elkhart, we care about your back health. We provide a variety of treatments to relieve back pain, including spinal decompression therapy. If you live in or around Elkhart and experience frequent back pain, contact Dr. Aaron Barnes and our team at Barnes Chiropractic.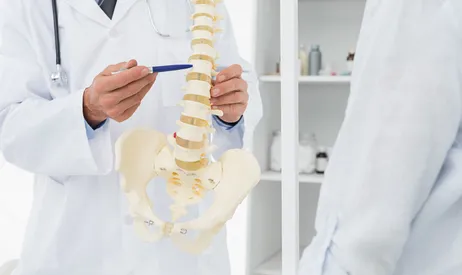 What is Spinal Decompression Therapy?
Spinal decompression therapy is back pain management using motorized traction. The therapy involves stretching the patient's spine using a motorized device or a traction table to relieve back pain. The spinal adjustment procedure is nonsurgical, unlike surgical spinal decompression like microdiscectomy and laminectomy.
Spinal decompression gently stretches your spine to change its position and force. Such changes will relieve pressure from your spinal discs. These spinal discs are gel-like cushions found between the bones in the spine. This pain management therapy creates negative pressure on the discs, allowing them to retract. Dr. Aaron Barnes will efficiently treat your herniated or bulging discs using this technique to alleviate your back pain.
Retraction of the bulging discs will reduce the pressure exerted on your spine and surrounding structures. The treatment promotes the movement of oxygen, nutrient-rich fluids, and water into these discs, meaning they can heal faster. Spinal decompression therapy is used to treat:
Injured spinal nerve roots
Herniated or bulging discs
Neck or back pain that extends to the leg
Worn spinal joints
Making Spinal Adjustments
During your therapy session, our chiropractor will fit a harness around your trunk and your pelvis. You can either lie face up or face down on a computer-controlled table. We will then operate the table using the computer to cater to your specific treatment needs. The session will likely last for around 30 to 45 minutes. The treatment takes approximately five to seven weeks and takes about 20 to 28 sessions.
Good Candidates
Each treatment plan starts with an assessment from Dr. Aaron Barnes on whether or not to proceed with the spinal decompression therapy. Pregnant women are not suitable candidates for this therapy and patients with the following conditions:
Tumors
Fractures
Abdominal aortic aneurysm
Metal implants in your spine
Advanced osteoporosis
Visit Barnes Chiropractic in Elkhart for Spinal Decompression Therapy
At Barnes Chiropractic, we provide a wide range of chiropractic care services to residents in Elkhart and the surrounding areas. Our team is dedicated to providing long-term pain relief for conditions like headaches, chronic pain, neck pain, and injuries. Call our team today at (574) 295-9355 or reach us through our website by using our online contact form.