Lower Back Pain Relief at Barnes Chiropractic
Your lower back is designed to provide support, strength, and flexibility to your upper body. That's why the lower part of your back is sensitive to pain and injuries from everyday activities. That also means the causes and severity of back pain varies from one patient to another. Lower back pain can range from mild to severe and debilitating. At Barnes Chiropractic in Elkhart, IN, our chiropractor has years of experience helping people get natural, drug-free relief from acute and chronic low back pain.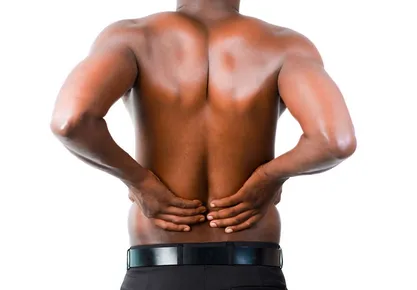 Why Lower Back Pain Is So Common
Low back pain is incredibly common, mostly because the risk factors for low back pain conditions are quite universal and widespread. For example, we know that people who are most likely to experience an acute or chronic bout of lower back pain include:
Male
People older than 50
Physically inactive or sedentary people
Manual laborers
People involved in traumatic accidents
People who are obese or living with other chronic health conditions
These aren't the patients we see at our office suffering from low back pain. Stress, smoking, and a family or personal history of back pain can increase your risk of back pain in the future. However, many of these risk factors are manageable. We help patients learn about lower back pain triggers in their lives to better avoid the condition in the future.
Conditions Associated with Lower Back Pain
Lower back pain is often caused by underlying health conditions, including:
Lumbar spinal stenosis: narrowing of bony spaces in the spine
Degenerative disc disease: gradual degradation of the spinal discs in the lower back
Disc herniation or disc bulge: rupture or bulge of a disc, which can compress a nearby nerve or joint
Muscle spasm or strain
Our chiropractor can diagnose these conditions during an initial consultation.
How Our Elkhart Chiropractor Addresses Low Back Pain
As an experienced and trusted Elkhart chiropractor, Dr. Aaron Barnes uses a range of evidence-informed techniques to help people find relief from their back pain and regain a more active, healthy lifestyle.
Spinal adjustments, including the Cox flexion-distraction technique, are shown to trigger the release of natural pain-relieving chemicals in the nervous system and restore optimal spinal alignment. We also offer other non-invasive modalities that work together to enhance your body's healing process, all the way down to the cellular level. These services include class IV laser therapy, corrective exercises, and nutritional counseling.
Contact Us for Lower Back Pain Management in Elkhart
Regardless of the cause of your lower back pain, our team will work with you to understand why the condition occurred and how to properly alleviate it. We are committed to providing various services our patients need to achieve optimal health and wellness. Contact us at Barnes Chiropractic by calling (574) 295-9355 to schedule an initial consultation today with our Elkhart chiropractor. Learn more about how we can help you live a pain-free life.